Veto Competition Competitors, Week #1
Hello, houseguests! It's time for the Veto Competition! Now, as you know, only 6 of you may compete in the Veto competition. The Head of Household, Shannon, and the two nominees, Aston and Nick, are automatically eligible to compete. The other three houseguests will be determined by random draw, as the first three houseguests to appear on this list will compete. However, there is one lucrative chip that has always been up for grabs in Big Brother: Houeguest's choice. If it is revealed first in this list first, the Head of Household may choose any of the 9 houseguests not already selected to play in the Veto Competition. If it is revealed second, it is to the first nominee alphabetically by nickname, being Aston. Third will correspond to Nick. Here is the random draw: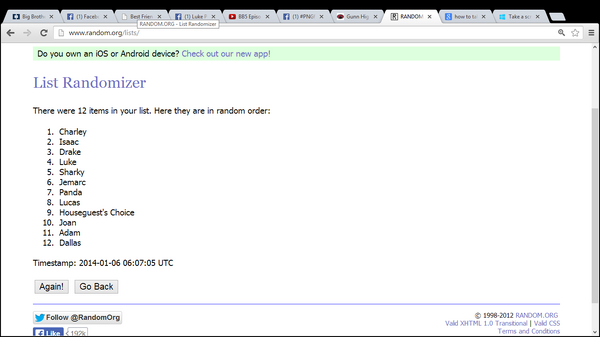 Aston, Charley, Drake, Isaac, Nick, and Shannon, you will compete for the Power of Veto!
As for Adam, Dallas, Jemarc, Joan, Lucas, Luke, Panda, and Sharky, you will not be eligible to compete.
The Veto Competition will be posted shortly.